Intergalactic Gaming's Progress Report: October 2020
Since launching our social competitive gaming platform, IGGalaxy, just 11 months ago, we have witnessed its ability to continue to attract competitive gamers from across the globe!
If you've recently found IGGalaxy, either through a desire to take your competitive gaming experience to the next level, or a recently sparked interest into how our IG Gold (IGG) token will forge a new path for a tokenised social competitive gaming and esports economy, welcome aboard!
To get started, you'll have to: sign up for free; create a gaming profile; create or import a wallet; and then check out how to use your IGWallet! Once this is done, you can then start competing in IGGalaxy tournaments to earn IGG rewards, and then store these IGG tokens in IGLabs capsules for a fixed period of time — all ORB tokens can then be sold to IGLabs at a fixed rate of 5 IGG per ORB token.
Earning rewards for holding IGG tokens is simple; you just need a Matic IGWallet, IGG and MATIC tokens! You can check out this guide for storing your IGG in IGLabs 'Power Capsules' to earn ORB rewards!
Our monthly and quarterly reports serve to provide our own, and the wider blockchain and esports community with consistent updates as to the business and developmental progress pertaining to Intergalactic Gaming and IGGalaxy. With that said, we are pleased to share our October progress report, as we countdown to our first-year anniversary in public beta development!
Check out the progress report made during October 2020!
IGG Token Economics
With IGGalaxy now operating on Matic Network, all IGGalaxy tokenomics data will be taken from www.etherscan.io and https://explorer.matic.network.
With our token swap ongoing, we will provide the following token data until over 90% — excluding long-term IGG we have in cold storage — of our TRC20 tokens have been converted to the new ERC20 standard that exists on Matic's Layer-2 network.
The TRC20 IGG, ORB and GFT token swap will remain open for the foreseeable future, but if you would like to do this, we recommend that you follow our token swap guide to do so.
Total IGG supply: 48,132,126,676.841174
Current circulating supply (max circulating supply minus IGG stored in capsules and liquidity pools): 5,913,934,931
Max circulating supply (market cap): 18,135,514,429 ($6,177,500)
Total IGG burned: 1,867,873,324
Total IGG in UniSwap IGG/ETH liquidity pool: 99,840,334
Total ORB supply: 772,052,067
ORB circulating supply: 666,937,160
IGG currently stored in IGLabs capsules: 12,161,574,038.578000
Cumulative IGG stored in IGLabs capsules: 178,670,111,360.559794
Total IGG burned from IGLabs: 358,056,204.039186
Total ORB burned: 227,947,933
TRC20 IGGalaxy tokenomics
Total TRC20 IGG swapped: 10,599,768,665
TRC20 IGG tokens stored in IGLabs: 5,760,141,669
TRC20 ORB tokens to be claimed: 18,613,507.97
Total TRC20 ORB swapped: 263,224,143.97
Total TRC20 GFT swapped: 784
IGGalaxy: Powered by Matic Network!
IGGalaxy's blockchain infrastructure has successfully migrated to Matic Network, and with this migration, we begin a new chapter in our journey to establish the galaxy's leading social competitive gaming platform!
IGGalaxy migration from TRON to Matic Network complete!
We outlined the reasons behind why Matic Network is the ideal destination for our IGGalaxy, which you can read in full here!
Purchase MATIC via your IGWallet: Fiat gateway integrated into IGGalaxy!
Last week, we activated a fiat gateway for IGGalaxy users that may wish to purchase MATIC tokens to interact with IGGalaxy, and the wider Matic ecosystem, through the integration of Transak Finance. To purchase MATIC tokens, simply select the 'buy' open in your IGWallet, on the Matic wallet specifically, and enter the amount you wish to buy.
Transak also enables the purchase of a wider range of cryptocurrencies with traditional payment methods via your IGWallet. In the near future, we intend to roll out ability to purchase these tokens. Naturally, as the liquidity for IGG increases, we intend to integrate a fiat gateway for purchasing IGG tokens, too.
IGG listed on UniSwap!
On 1 November, IGG listed on UniSwap, the first decentralised exchange (DEX) to surpass a trading volume of $1 billion dollars worth of ERC20 tokens in 24 hours, making it the third largest exchange by normalised trading volume!
UniSwap uses automated market making (AMM), which essentially means there are no order books; indeed, anyone can contribute to the liquidity of the market and earn a share of the fees collected, alongside further incentives that we will be providing. (We will provide more of an insight into this in the next section of this report.)
IGG/ETH pairing available on Uniswap!
All IGWallets are multi-chain, supporting approved tokens on the Matic, Ethereum and TRON networks. This update also offers a user-friendly implementation of the ChainSwap feature giving IGGalaxy users the ability to deposit and withdraw their IGG and eventually ORB and partner tokens across Matic and Ethereum chains.
At present, those that have IGG tokens stored in their Matic IGWallets will need to use the ChainSwap withdraw feature, within the IGWallets, to trade on UniSwap. We will also be listing on a Matic network based exchange, enabling fast and cheap swaps between IGG and MATIC.
We appreciate that the added steps when transferring tokens across networks may cause some confusion, but want to encourage those experiencing any difficulties to contact our support team. Please rest assured, though, that the steps required to trade will become easier, especially as we march towards greater adoption of Layer-2 solutions, like Matic.
Using MetaMask
MetaMask is a web-3.0 wallet, which is available via browser extension for Brave, Chrome, Firefox and Opera, and as a mobile app. MetaMask is multi-chain, allowing crypto holders the ability to interact with a wide range of DApps without running a full node.
MetaMask enables you to connect with DApps — like UniSwap — on the browser via the extension. Alternatively, you can sync your MetaMask mobile app with your browser extension to access UniSwap exchange.
If you would like to learn how to use MetaMask, then we recommend that you check out our full guide, which also includes details of how you add ERC20 IGG as a 'custom token' in your MetaMask wallet!
Get rewards from IGGalaxy's liquidity pool incentive program!
With IGG now available to trade with Ethereum (ETH) tokens on UniSwap, last weekend we introduced an incentive program to reward those that provide liquidity for IGG trading pairs on specified exchanges. You can read the article that first introduced IGGalaxy's Liquidity Pool Incentive Program here.
We have added an initial allocation of 12,349,206 IGG and 20 ETH to the IGG/ETH liquidity pool on UniSwap, with the intention of adding more as over the coming weeks and months. At the time of writing, there is now over 80 ETH and nearly 100,000,000 IGG in the liquidity pool — over $65,000 worth of liquidity!
IGGalaxy's Liquidity Pool Incentive Program: Launching with UniSwap Protocol!
How does IGGalaxy's liquidity pool incentive program work?
We will reward those that provide liquidity for each AMM DEX listed in this program; anyone can participate.
Rewards will be calculated based on two-week reward periods. The first reward period for the IGG/ETH UniSwap liquidity pool is from 01/11/2020 to 15/11/2020 at 17:59 UTC and then the second begins from 15/11/2020 (18:00 UTC) to 30/11/2020 at 17:59. There will be a total allocation of 15,000,000 IGG and 1,000,000 ORB for the first reward period!
Before each reward period commences, we will provide the total allocated rewards that will be shared between eligible liquidity providers.
We will also provide the minimum liquidity threshold required to be added to the liquidity pool so that the allocated rewards pool can be maintained at 100%; in the event that the liquidity falls short of minimum threshold, we may look to adjust this.
Once the period has passed, rewards will be calculated based on the amount of liquidity provided and the duration of time it has remained in the pool over the reward period, and then distributed proportionately to eligible wallets. The initial liquidity injected by Intergalactic Gaming will not be included in these rewards.
Why participate?!
Participating in this incentive program offers IGG and ETH holders the ability to receive a share of the 0.3% trading fees on UniSwap. All swap fees are immediately deposited into liquidity reserves, which in turn, increases the value of liquidity tokens; the greater the trading volume, the more profitable the shares of the liquidity pool. This is in addition to the rewards earned from our incentive program.
Aside from the rewards on offer, in line with our strategy for maintaining the long-term value of IGG, those that support deeper liquidity will be fundamentally supporting the IGG token economy.
Where will the IGG and ORB rewards come from?
All IGG rewards for this incentive will enter circulation, whereas the ORB rewards will be distributed from the existing circulating supply.
Please note that the eligibility requirements and rewards in this incentive program may be subject to change. Nonetheless, if this sounds like something you may be interested in, we highly recommend that you read our announcement of IGGalaxy's UniSwap Liquidity Pool Incentive Program in full.
IGGalaxy platform updates
Development during October have predominantly focused on the successful deployment of a massive update that concluded the migration of IGGalaxy's blockchain infrastructure from TRON to Matic Network. This was a task that involved re-writing aspects of the platform's code, and operational smart contracts, like those for the tournament rewards distribution and IGLabs.
What's new?
IGGalaxy's wallet feature has been significantly revamped, from both a design and functionality perspective. In terms of the latter, all crypto wallets now created in IGGalaxy are multi-chain, interoperable with selected crypto tokens across Matic, Ethereum and TRON blockchains. It also provides new features pertinent to Matic network right now, such as ChainSwap which enables cryptoassets to be transferred between Matic and Ethereum chains.
For a full breakdown of new releases and bug fixes, check out our recently uploaded IGGalaxy platform update.
IGGalaxy analytics
In October, we added 16,034 public beta sign-ups taking the total registered accounts to 125,470 registered accounts!
The total registered IGGalaxy accounts rose to 125,470 sign-ups by the end of October!
In light of the platform updates throughout October, tournament operations had been significantly reduced in comparison to previous months. In spite of this, with new titles, formats, and the very first season of our InterMatic Competition Series on the way, marketing will be enhanced as we continue to continue attracting competitive gamers to IGGalaxy!
Furthermore, the next six months will be significantly more eventful in IGGalaxy, especially as more features and collaborations are initiated!
CAPTION: IGGalaxy analytics: October 2020.
InterMatic Competition Series: Season 1!
Over the course of Q4, IGGalaxy will be hosting the InterMatic Competition Series: Season 1 in partnership with Matic Foundation. These competition series events will be seasonal, and aim to bring dedicated esports competitions, in a variety of esports games, to teams and gamers across the globe. This also provides us the opportunity to create awareness for the thriving DApp ecosystem on Matic.
For the first season, we will host over 30 competition series' that will last until Tuesday 22 December 2020. During this period, the predominant focus of the series will cater to players and teams from Europe, Asia, North America and Africa, with later tournaments dedicated to South America, the Middle East and Oceania.
InterMatic Series Season 1 will start on Monday 9 November 2020!
The format for Season 1 will involve four qualifying tournaments hosted between Monday and Thursday. Each week of qualifiers will then culminate in a weekend grand finals event.
We will be releasing further details in due course, which will include a schedule for each game in the coming week.
New esports titles confirmed!
In September, we announced that Rocket League tournaments were coming to IGGalaxy! Tomorrow, IGGalaxy will host its first solo Rocket League tournament to players in Asia, with tournaments for players in Europe and North America on Friday and Saturday evening, respectively.
Mortal Kombat 11, too, has recently been confirmed as a game to feature in IGGalaxy this quarter! It is our very first fighting game to arrive in IGGalaxy, which will bring a new community of engaged casual and competitive gamers and content creators! In terms of competitive support, it is a great game for our social competitive gaming platform: with the ability for quick head-to-head matches, it requires very little development time, and too, paves the way for Black Salt Coreuption, another fighting game soon to feature in IGGalaxy!
We will then aim to host weekly Rocket League and Mortal Kombat 11 tournaments — predominantly for players in Europe, Asia and North America — ensuring the necessary marketing is carried out to ensure there is adequate demand for teams and players within these esports communities to feature in our tournament series this quarter.
Esports titles supported in IGGalaxy!
League of Legends Wild Rift confirmed, too?!
Wild Rift, the latest mobile version of the hugely popular multiplayer battle area online title, League of Legends, is currently in its closed beta. To date, this is only available in selected countries, including Japan, Malaysia, South Korea and Thailand, with further regions able to access the game later in the year to Q1 2021.
A recent partnership between Apple and developers of the mobile game, Tencent, have highlighted their intention to elevate the games experience, which has subsequently seen Wild Rift become the most downloaded iOS app of this year.
In the introduction of the InterMatic Series: Season 1, we shared that Wild Rift would feature in the tournament schedule. We are still exploring the integration of this title for the present quarter, paying close attention to the game's developments, especially as it progresses through its public beta; notwithstanding, we can say with certainty that it will be supported in IGGalaxy as we strongly believe in the game's long-term success.
In addition, we can unveil that there will be another mobile game introduced to IGGalaxy during this quarter!
IGGalaxy co-founders meet the Matic community!
Co-founders of Intergalactic Gaming, Josh and Naeem, met with Matic Network's marketing specialist, Arun Philips for a Q&A session last week in Matic's official Telegram.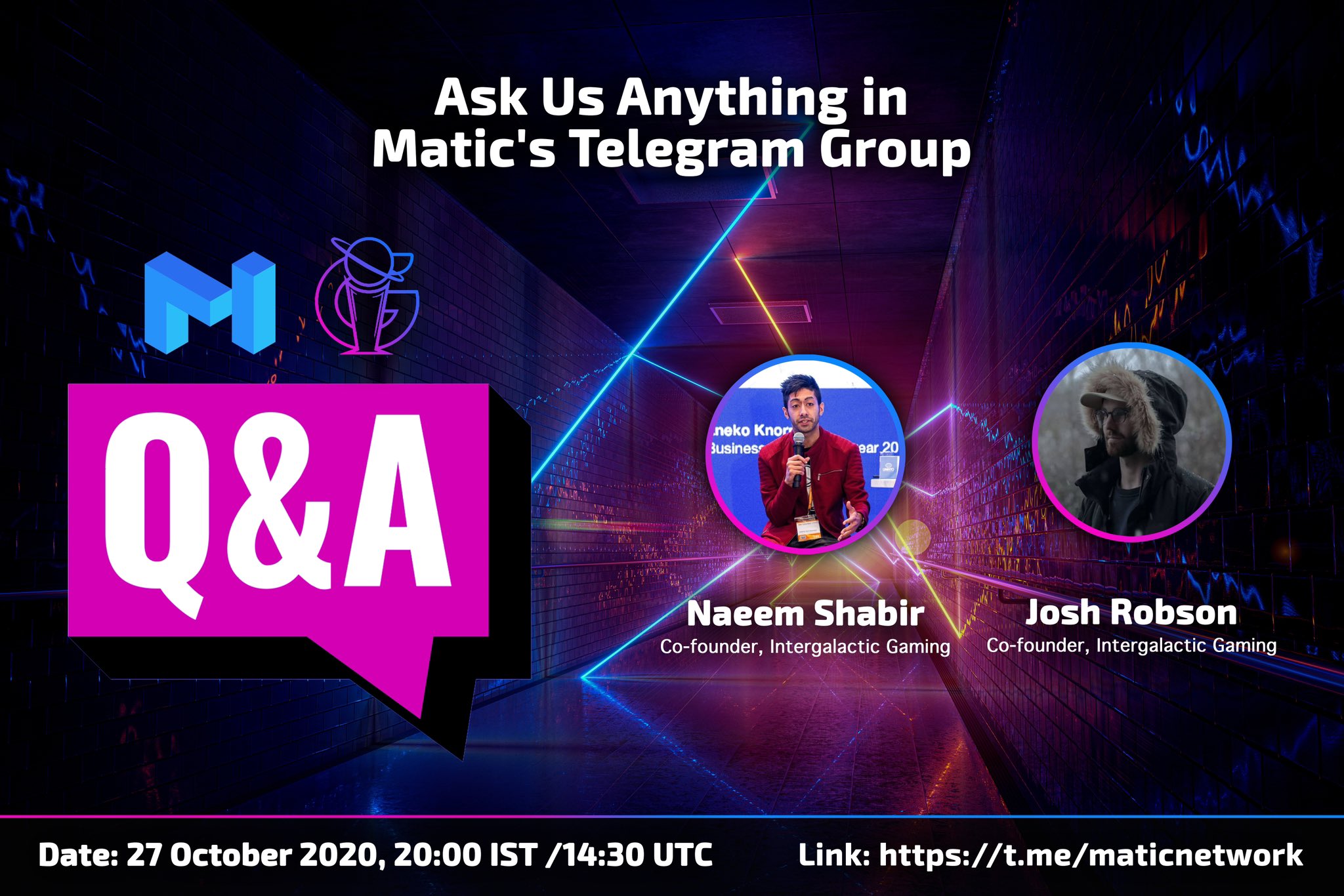 You can read the full transcript of the Q&A over in IGGalaxy!
Recently launching on Matic Network, this was a great opportunity to share the vision behind IGGalaxy, our objectives, and how we intend to utilise our competitive gaming platform as a significant tool for adding value to Matic Network's thriving ecosystem!
If you missed this, you can read the full transcript here in English. Alternatively, you can read the Spanish translations kindly provided by one of our community admins!
Looking ahead
As we approach our first full year in public beta development, the foundations to IGGalaxy are set. Our competitive gaming platform continues to demonstrate its ability to fill the demand for a truly rewarding competitive gaming experience, and more brands are keen to enter in discussions with the prospect for collaborative events with the aim of utilising IGGalaxy for their respective audiences.
We are extremely excited for the remainder of Q4 and beyond, particularly as we begin to focus on the 'stickiness' of IGGalaxy by enriching the experience to enhance user engagement and thus retention.
After a very busy month for our team at IGHQ we want to thank our community for continuing to show great support and helping new members of the community settle in well!
To keep up to date with developments, please follow us on our various social media channels:
Twitter Instagram TikTok Facebook Twitch YouTube Discord Telegram LinkedIn Reddit(