VALORANT's ranked mode available!
Riot Games have officially released VALORANT's competitive ranked mode. VALORANT's closed-beta went live on 7 April, but due to the coronavirus pandemic, this was only available to players in the US, Canada, Europe, Russia, Turkey and CIS countries. Riot have stated that more regions could be supported later, but this depends on developments with the coronavirus pandemic.
How do I get a VALORANT key?
If you missed out on VALORANT's beta key, here's what you need to do to maximise your chances!
Firstly, you must be in one of the countries listed in the introduction to be eligible. Thereafter, you will need to: create a Riot account; sign up for Twitch; link both your Riot and Twitch accounts — ensuring that drops are enabled — and then watch VALORANT streams on Twitch.
Credit: Riot Games.
At first, Riot selected what Twitch streamers could drop invites, which meant you could only watch specific streams to gain closed-beta access. Now, however, Riot have enabled all Twitch streamers with access to VALORANT's closed-beta to drop beta invites to their viewers provided they are streaming VALORANT.
Riot state that viewers need to watch approximately two hours of VALORANT streams on Twitch to be eligible for closed-beta invitations. The more hours of VALORANT streams you watch, the greater your chances of receiving an invitation; however, this will not guarantee you access. Riot has also started to reward some of their most engaged viewers with invitations, so there are plenty of chances to receive your VALORANT beta key!
VALORANT ranked mode: what you need to know!
Players must complete at least 20 unrated matches before they are able to unlock VALORANT's 'Competitive Mode'. It is worth noting that this does not depend on the amount of games you win or lose, but instead allows players to acclimatise to the game.
A total of five placement matches in 'Competitive Mode' must be completed in order to obtain your first rank. Whilst winning games at this point will help you progress through the ranks, again, there will be a focus on your overall performance; poor performances (even if you win) can still affect your competitive rank. At the same time, if a player has an amazing game, but their team do not win, they will still be able to increase their rank, which is arguably much a fairer way.
VALORANT players will be able to queue with their friends, but the game will match you with teams of the same number. Once you are ranked, however, they will only be matched with players within two ranks, or six tiers, of themselves according to Riot.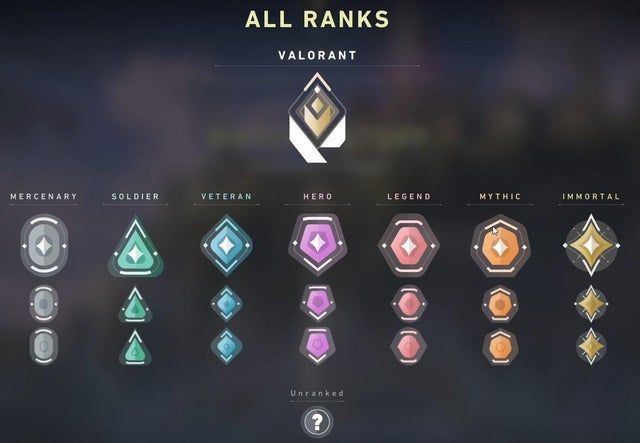 Credit: Riot Games. VALORANT ranks.
There will be a total of eight ranks: the first seven will have three tiers and the ultimate rank, VALORANT, has one. These will work on a seasonal basis, with each rank is expected to offer an in-game item as a reward at the end of each season. Whilst players will not have to worry about their rank resetting if they have a break from the game, their rank will be hidden (until they play again) if they are inactive for 14 days.
---
Unfortunately you will not be able to carry your rank to the full game when it is released in the summer. However, considering VALORANT is still in its closed-beta, and its the ranked mode has only just been released, it's likely that Riot will update it's ranking system as the game evolves.
To keep up to date with developments, please follow us on our various social media channels:
Twitter Instagram TikTok Facebook Twitch YouTube Telegram LinkedIn Reddit